Top 5 Trucks of the future you must see
Mar 14, 2017 in Technology, Just For Fun
When it comes to technology we are all looking forward to witness the future of all those fiction looking like innovations. Check out this fascinating list of top 5 trucks of tomorrow that will leave you speechless.
5. Volvo's New Concept Semi Truck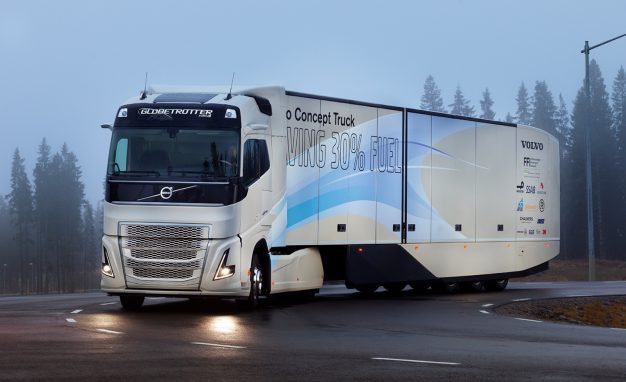 Volvo's New Concept Semi Truck looks like the future of Hybrid Big Rigs. Volvo prouds to announce 30% reduction in fuel consumption with this vehicle as a result of the implemented hybrid powertrain which reduces weight, rolling resistance, and aerodynamic drag. The hybrid system includes an electric motor system and Volvo's 12.8-liter six-cylinder diesel engine. Other interesting improvements are the regenerative braking system that recovers energy during braking and Volvo's I-See GPS-based support technology which helps a lot when it comes to making energy-saving choices.
4. Nicola One truck
This incredible truck of the future is a zero-emission 18-wheeler that gets a range of up to 1,200 miles. It has 1,000 horsepower engine and weighs less compared to many other diesel semis. The truck is hydrogen powered and supplied with 1 million miles free hydrogen fuel. The Nikola One electric motors are said to hit peak torque almost instantly and a 15 minute refile time.
3. Mercedes-Benz Future Truck 2025
Mercedes is making a self-driving semi that will soon conquer the roads. In the next decade Mercedes will work on improving the self-driving technology so that it is ready for commercial use. It is geared with cameras instead of side mirrors and LEDs instead of headlights.
Autonomous driving is nothing new to the world so what makes this vehicle unique? The "Highway Pilot" system that Mercedes uses coordinates lane position and following distance via cameras and radars. The vehicle-to-vehicle communication technology connecting the truck to other cars on the road.
2. Wal-Mart Truck
There are a number of assets that make Walmart's truck quite unique. First of all it able to reduce its delivery fleet's emissions. As a result of its ruck's lightweight construction, hybrid turbine drivetrain and advanced aerodynamics the truck is incredibly efficient in saving.
On top of all it's shape gives it a 20% reduction in aerodynamic drag.
It's microturbine is absolutely revolutionary as it is able to run on natural gas and other fuels producing no emissions. Last but not least, the futuristic cockpit not only makes the driver feel they are navigating a plane, but it also provides better visibility.
1. Future Audi Truck
Maybe the most impressive aspect of Future Audi Truck is its design by Artem Smirnov, of Belarus, and Vladimir Panchenko, of Ukraine. Beside its incredible spaceship look this truck also promises a self-driving technology. This electric truck is equipped with semi-off-road Pirelli P-Zero wheels, an open deck cockpit inspired by a fighter jet, and Formula One style steering wheels.